Norah Jones - "...Little Broken Hearts" - Norah Jones has one of the great voices on the planet. Sultry, seductive and emotional. She also has great musical instincts mostly rooted in jazz and roots. So I'll give her a pass as she hooks up with Danger Mouse to try to reach the kids.
Rickie Lee Jones - "The Devil You Know" - No such pass for Rickie Lee. She's taken some iconic songs from Neil Young, The Band and The Rolling Stones and utterly destroyed them. How does one kill "The Weight"? Singing barely above a whisper, Jones sounds like she's on her death bed. Rickie Lee has always been unpredictable but this is just plain awful. Can't blame producer Ben Harper for falling asleep on the job.
Tom Jones - "Spirit In The Room" - The man to see if you want to record an album of covers. Jones and ace producer Glyn Johns pick up where they left off on "Praise And Blame".
Mark Knopfler - "Privateering" - Double album of material Knopfler's been mining on a regular basis since he broke up Dire Straits. Understated beautiful guitar work. Wish there was a little more up tempo material like "Hot Or What" and "Gator Blood".
Mark Lanegan Band - "Blues Funeral" - This true survivor of the grunge scene (The Screaming Trees, Queens of the Stone Age) has one of the deepest, darkest and most distinctive voices in rock. Keeps putting out strong material on his own, and with others including Greg Dulli (The Gutter Twins). One of my personal favourites. The boys at Environement Electronique would especially enjoy "Phantasmagoria Blues".
Bettye Lavette - "Thankful N' Thoughtful" - Another master of the covers album, Lavette puts her own spin on songs by Sly Stone, Bob Dylan, Neil Young, Tom Waits, Patty Griffin and Dan Auerbach among others. My favourite female vocalist not named Emmylou Harris. And better than Aretha.
Led Zeppelin - "Celebration Day" - I understand the desire to put out a record of what was a magical night in London five years ago. It's neat to see Plant, Page & Jones on stage together in their 60s enjoying each other's company and pulling it off. But the blu-ray contains no special features. No behind the scenes look at how the night all came together. No background on the late Atlantic chairman Ahmet Ertegen whom Plant says is the primary reason they came together. No scene setters around the O2. Nothing. A quick cash grab. If you're a true Zeppelin fan you're better off with the magnificent "How The West Was Won" or the earlier - and sloppier - "The Song Remains The Same". While waiting for Jimmy Page to meticulously comb through the archives for upcoming re-releases of their studio albums with, no doubt, a bevy of special features. Just don't keep waiting for another reunion.
Los Lobos - "Kiko" (20th Anniversary Edition) - Los Lobos at their finest.
Marie "Queenie" Lyons - "Soul Fever" - Buried and forgotten 1970 soul classic from a sensational singer who at various times backed up King Curtis, Jackie Wilson, Fats Domino and James Brown. Nobody seems to know much more about Lyons or what happened to her. The title says it all.
Matt Mays - "Coyote" - It's been fun watching Mays grow into one of Canada's top rockers. Coyote is his most heartfelt recording to date. It's Mays' first record in four years and was worth the wait. Classic rock sound.
JD McPherson - "Signs & Signifiers" - How is it that so many young musicians who begin playing punk end up moving over to alt country and/or country based R & B? McPherson is no kid at 35 and his collection of songs (originally recorded in 2010 ) is deeply rooted in the tradition of Sun Records circa 1956. One of the albums of the year. Watch for him.
Van Morrison - "Born To Sing: No Plan B" - It's Van Morrison. Singing about greed. I'll listen to Van Morrison sing the new NHL-NHLPA collective bargaining agreement. Even if there isn't one.
Mumford & Sons - "Babel" - Sometimes a group is really popular because they're really good, not because they're "the next big thing". If you were there at the beginning pat yourself on the back. These guys have worked hard for all of their success. They give so much of themselves in the studio and on the stage. What more can a music fan ask for?
Shane Murphy - "The Good Years Dirty Work" - A lot of Montreal music fans already know how good Murphy is. In the past few years he's become a major attraction at The Writer's Festival at Woody Point, Newfoundland (founded by Stephen Brunt), has a fast growing audience in France and gigs on a semi regular basis in Toronto. But he needs to get his music out. This CD, officially launched at Club Soda early this month, finally has Shane sounding a lot closer to the way he sounds on stage. It's aggressive, raunchy and sweet. Several stand out tracks led by "I Wish I Was Drunk". Available - for now - only on ITunes. Your typical West End-Blues-Soul-Funk-Reggae-Rock kid makes good.
Old Crow Medicine Show - "Carry Me Back" - A modern, youthful, exuberant take on classic bluegrass. With sharp songwriting skills. Not to be missed live.
Our Lady Peace - "Curve" - A proud Canadian band that likes to experiment, stretches out even more. Gotta love the self-confidence. Especially like the first single "Heavyweight" and gorgeous album cover featuring a shot of a youthful and yes, beautiful former Canadian heavyweight champ George Chuvalo.
Conor Oberst And The Mystic Valley Band - "One Of My Kind" - Now that we can finally dispense with the ridiculous "new Dylan" moniker, Oberst pays tribute to the great American 60s songwriter that he most closely resembles by offering up a spirited take on Paul Simon's "Kodachrome". Early fans of Bright Eyes acoustic based material will like this. Not quite in Simon's league, Oberst does posess significant songwriting skills, as long as he keeps his observations to planet earth.
Graham Parker & The Rumour - "Three Chords Good" - What an unexpected, joyful comeback from one of my favourite bands of the 70s. Parker arrived prior to Elvis Costello and Joe Jackson yet never seemed to be able to attract the sizeable audience of his contemporaries and one he so richly deserves. Parker kept producing quality album after quality album for Bloodshot Records (out of Chicago) while living in upstate New York the last couple of decades. Now, reunited with The Rumour - including lead guitarist Brinsley Schwarz - Parker's literary strengths are on display ("They said that you was low class, Perpetual iconoclast..") as is his customary sense of humour and political bite, even if his sneer is a little less pronounced. Featured in Judd Apatow's "This is 40" and poised for a major comeback. Can't wait to see them live. Welcome back boys.
Grace Potter & The Nocturnals - "The Lion The Beast The Beat" - Rapidly becoming one of best rock bands in America by way of Burlington, Vermont. Potter has some of the best pipes in the biz. Outstanding live act.
Cat Power - "Sun" - I love Cat Power. Synthesizers and dance beats? Not so much.
Elvis Presley - "As Recorded At Madison Square Garden" (Legacy Edition) - 40th anniversary of E's first ever concerts in NYC, June 9 - 11, 1972. It's the Vegas era Elvis. Don't ever forget that amidst all the glitz was a great band anchored by drummer Ron Tutt, bassist Jerry Scheff and the great rock and roll hall of fame guitarist James Burton.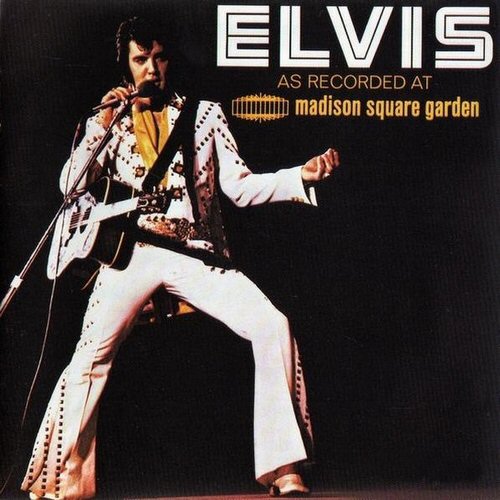 More tomorrow...